Frederick's 100th Forbes Story: Hallo Raises $1.4 Million To Create The Future Of Language Learning
A special milestone and story for all of my readership.
Author's Note: I present to you my 100th Forbes story below. A big thank you to my readership who has supported me over the past three years when I first started writing for Forbes as an Under 30 Contributor (now in Enterprise Tech). Writing has given me so much, most importantly the pleasure knowing that you, my reader, enjoy reading what I have to write.
Most people don't know this, but writing has never been my full-time job. I work full-time as an aerospace engineer and have only been able to write on the side over the past three years. I never thought I would reach this centennial milestone while being a full-time student at MIT or an engineer at Boeing.
But here we are.
What was once a neat little hobby has turned into a blossoming profession.
Maybe even a calling.
I'll have more to say in the coming days regarding my future as a writer on my social media channels, but for now, I hope you enjoy reading the story below.
As always, thank you for reading,
Frederick (Soda)
---
Learning a new language is difficult and time-consuming. Yet, once one does so, one's ability to appreciate and experience a culture is fundamentally augmented. Whether someone heads to Ibiza for vacation or conducts business in Beijing, being able to speak the native language enhances one's interactions. Benjamin Dent, 30, and Joon Beh, 29, are two entrepreneurs who have built a platform and community called Hallo to democratize English language learning.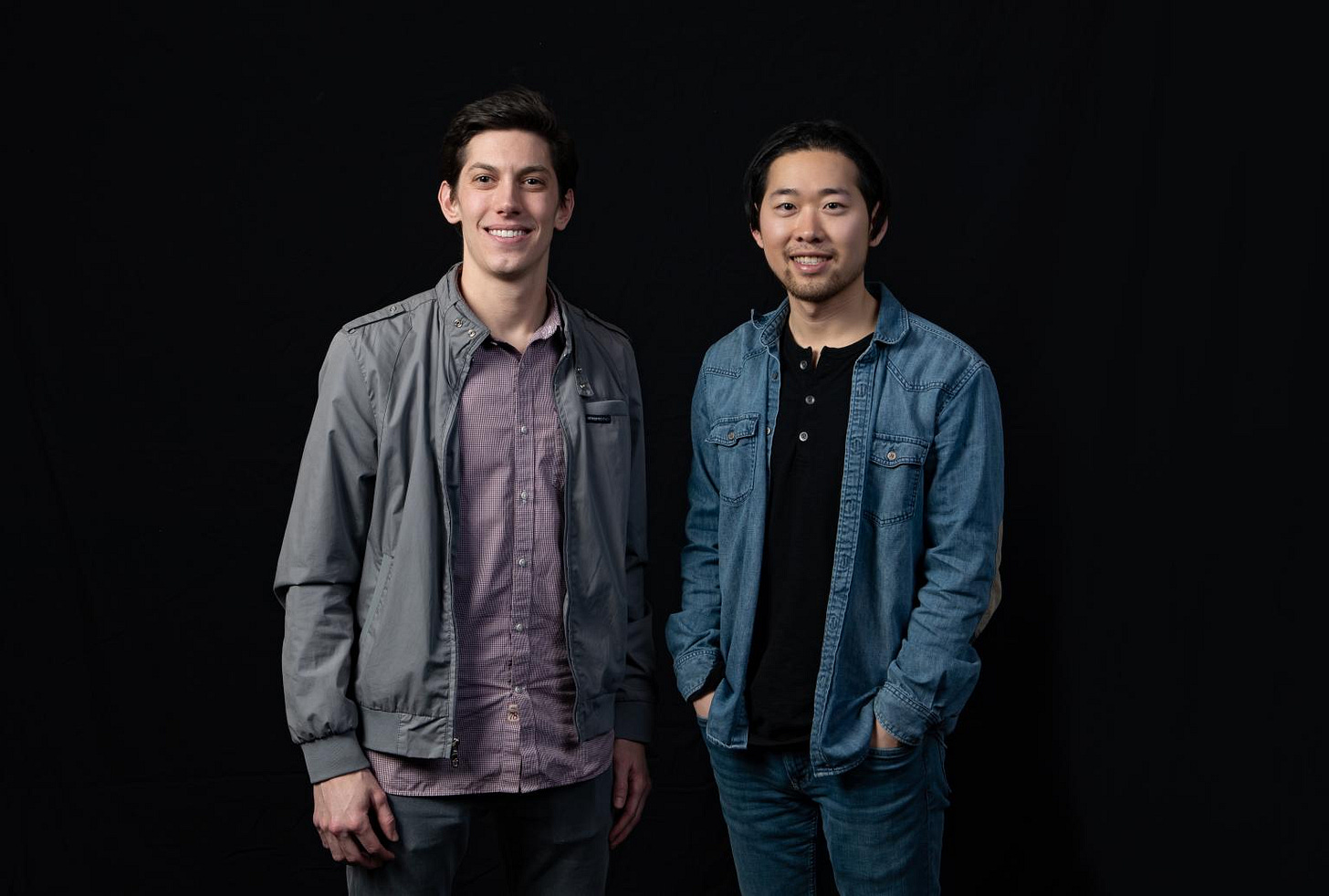 Hallo cofounders Benjamin Dent (left) and Joon Beh (right).

Dent recollects, "During my birth, my mom experienced complications that left me blind in my left eye. However, my parents didn't know until my kindergarten teacher expressed concern when he watched me struggle to find a crayon I dropped. For the next nine years, I wore glasses with a patch covering my strong eye to strengthen my damaged eye, eventually switching to a less conspicuous black contact lens. It was a bumpy and lonely road. From being called 4 eyes to running into walls, this experience endowed me with a new kind of vision: to dream and to create."
His vision manifested Hallo.
Read the rest here on Forbes:
Why you should become a paid subscriber to Founder to Founder:
Get connected to elite tech entrepreneurs through in-depth Founder Case Studies

Receive exclusive documents crafted by top founders on how to build your company

Access a growing audience of venture capitalists, product managers, software engineers, and people passionate about technology

Hear real, raw experiences from entrepreneurs that you won't see anywhere else
Previous F2F Q&A Articles:
Latest Forbes Articles:
If you enjoyed this article, feel free to check out my other work on LinkedIn and my personal website, frederickdaso.com. Follow me on Twitter @fredsoda, on Medium @fredsoda, and on Instagram @fred_soda.